Andrea Álvarez, Cecilia Barrios and Renata Garcés, students of the Bachelor's Degrees in Graphic and Interior Design, are the winners of the 8th edition of "A Jump for the City". The aim of the contest was to design an obstacle for the CSIO Barcelona, which will host the world final of the Longines FEI Jumping Nations Cup, the most important equestrian event on the international calendar, from September 29th to October 2nd.
The Barcelona Equestrian Challenge (BECH) organized this action among our students during the last edition of the Prospect Design festival. The winning project was "The Rose and the Book", an obstacle inspired by the Diada de Sant Jordi and the work of sculptor Jaume Plensa that pays homage to Barcelona, its tradition and its culture. "Integrating the poem Visca Sant Jordi! by Lola Casas into the jump, we wanted to represent the power of letters to form words, texts and stories that connect us", Andrea, Cecilia and Renata explain.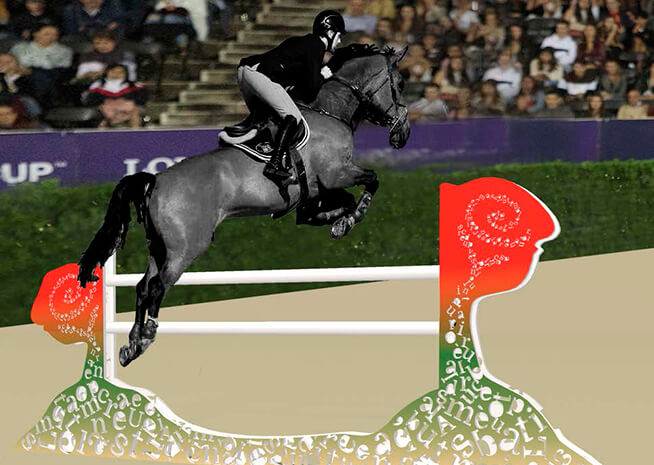 Render of "The Rose and the Book"
The obstacle was officially presented last week in an event held at the door of La Pedrera and attended by representatives of the political sphere and all the institutions and entities involved. Our students were there to give the details of their proposal accompanied by the area directors Pedro Coelho and Ernest Perera, tutors of the project. According to Pedro, "the winning design has stood out from the others to the extent that it proposes an original concept for the always difficult challenge of synthesizing the values of a city in an object, without falling into literalism and cliché references".
"The Rose and the Book" will be part of the different courses of the CSIO Barcelona 110th edition, which will take place from Thursday to Sunday at the facilities of the Real Club de Polo. This event will turn Barcelona into the world equestrian capital and will be an international showcase for the city and for Andrea, Cecilia and Renata's project. Congratulations!