We are very happy to be part of the first edition of (ÒH!)PERA, a project led by the Liceu, the Barcelona City Council's Department of Tourism and Creative Industries and the Disseny Hub Barcelona.
Its aim is to promote new talents through the creation of four small-format operas to be performed at the Liceu on July 9th and 10th, 2022. The set design of these micro-operas will be created by students from design schools in Barcelona, and its communication has been commissioned to LCI Barcelona. (ÒH!)PERA was also born to bring the Liceu and the world of opera closer to young people.
The LCI team, which has been working since February, is made up of Oliver Montiel (tutor and creative director of the project), Toni Cabrera (professor specialized in space design) and the students Mireia Alcon, Joel Lloret and Javiera Delgado (Graphic Design area), Helena Travesset (Diploma in Digital Photography), Alba Rubio (Diploma in 2D and 3D Animation) and Cindy Rojas (Official Master in Experiential Interior Design).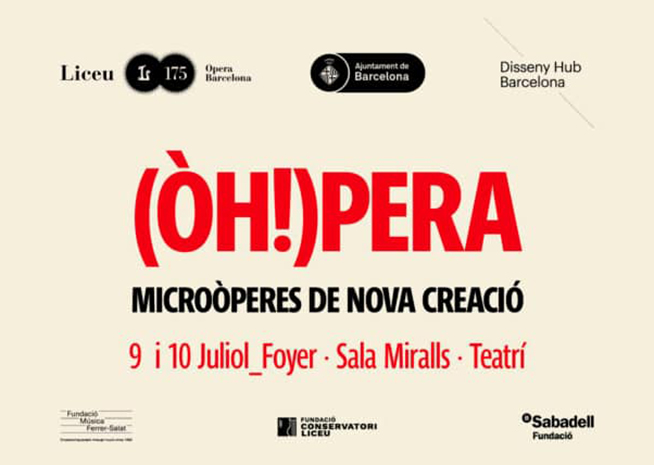 The four small-format operas will be performed on July 9th and 10th
"From the School we will design the official poster of (ÒH!)PERA and each of the micro-operas that make up the initiative. We will also be in charge of recording, editing and post-production of the project's making of, communication on social media and the program of the event (online and downloadable)", explains Anna Pallerols, head of the Graphic Design area and coordinator of the project, who adds: "We will also carry out an intervention in the space through structures that will be installed in the Liceu itself".
Follow LCI Barcelona's channels to not miss any details of our participation in (ÒH!)PERA!