Great news to end the year! Ariadna Gegúndez, recent Fashion Design graduate, has won a MasterClass Scholarship Award in the international competition Arts of Fashion. Our alumni participated in the contest with three looks of her final project "Alfredo", based on the time she lived with her grandfather during the confinement. The entire collection is made with pieces from old fur garments and articles rescued from second-hand stores.
As it happened last year due to the limitations of travel because of the pandemic, the big fashion show that closes the competition has been replaced by a fashion film that was filmed in November during the meeting of the jury at the Antwerp Fashion Museum - MoMu. You can watch it through this link.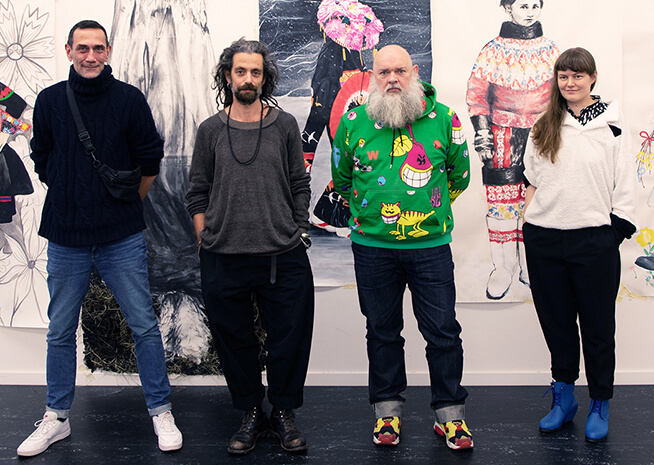 The jury formed by Jean-Paul Knott, Jan-Jan Van Essche, Walter Van Beirendonck and Zoe Vermeire (Source: arts-of-fashion.org)
366 students from 116 schools and universities located in 29 different countries sent in their entries to be part of the 20th edition of the contest, which had "Momentum" as its central theme. In addition to Ariadna, LCI Education network student Quang Thai Kevin Nguyen (LaSalle College | Montreal) won an Apprenticeship Award at Maison Lesage in Paris.
But this is not the end of our School's participation in AoFF 2021! Among the finalists were also the recent graduates Carla Lázaro, Mónica Pérez and Carla Sánchez, while Gabriel Torres (project manager of the Bachelor's Degree in Fashion Design) was part of the jury of experts who met at the Cristóbal Balenciaga Museum to select the 50 finalists of this edition.
Once again, and as has become a tradition, LCI Barcelona succeeds in Arts of Fashion and brings home an award. Congratulations to Ariadna and the rest of the #MadeInLCI alumni!