DI55ECCIONS is back, but in a different way... Our talks take a 180-degree turn in its 6th edition to bring you the best emerging talent and the most disruptive proposals. On May 30th, we will receive photographer Alba Yruela.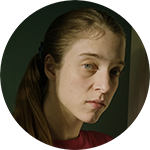 Alba Yruela
Born in La Bisbal d'Empordà in 1989, Alba photographs her environment, nature, friends and lovers from an intimate and delicate, yet direct point of view. She works in various media, taking portraits, still lifes, fashion and video. She has collaborated in magazines such as Apartamento Magazine, The Plant, Lula or FT Magazine, among others, and has exhibited her most personal work in Paris, London and Barcelona. She has published a dozen books, among which stands out her latest work, "Diaris 2009-2019", a beautiful testimony of her own intimacy.
What is DI55ECCIONS?
DI55ECCIONS are LCI Barcelona's talks focused on the world of design, visual arts, innovation and creativity. In this 6th season we reinvent ourselves to give voice to the most emerging and disruptive talent. And we continue to play with the number five: five guests present in each edition five future trends for which they bet (linked to their projects, their industry, society in general, etc.) and five references or key aspects of their work.
How can you register?
Just fill in the form above on this page and see you on Tuesday, May 30th (19:00h) at Balmes street, 209.
Event in Spanish.