April 27th, 2022 will be one of the important dates in the history of our new campus. The president and CEO of the LCI Education network, Claude Marchand, visited this morning the construction of the building, which will be inaugurated in early 2024 and will have the capacity to accommodate 2,000 students each academic year.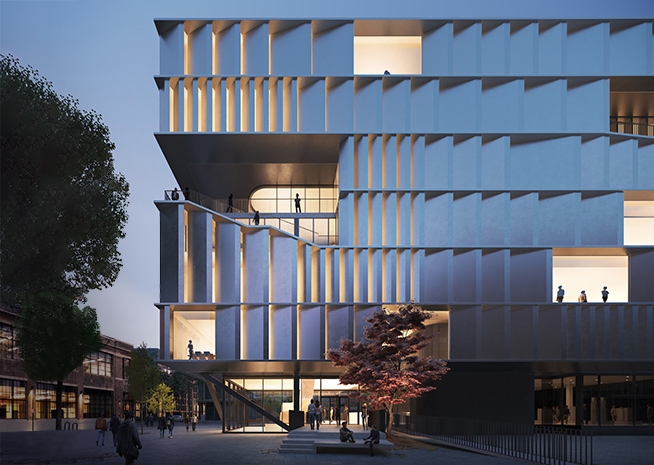 Rendering of the campus (project by Circular Studio)
The event was also attended by Isabelle Dessureault (director of the Quebec Government Office in Barcelona), Mazen Mahfouz (senior trade commissioner & counsellor of the Canadian Embassy in Spain), Ignasi Cots (CEO of the construction company Cardoner), Luis Diego Quirós (COO for Ibero-America at LCI Education), Caroline Comeau (vice president of Strategic Enrollment Management for the network) and the LCI Barcelona management team, led by the general director Sílvia Viudas.
During the event, a time capsule was placed in the building's ground floor containing: a letter signed by the main assistants, a USB with all the details of the new campus and other information about the School, a newspaper of the day, some coins and a face mask. Finally, the attendees toasted the new facilities, which will have more than 11,000 square meters equipped with the best technology.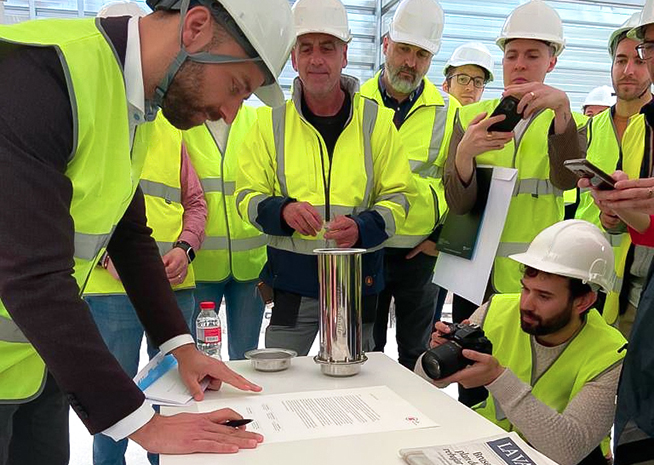 Claude Marchand signing the letter placed in the time capsule
This spectacular design building will be one of the largest campuses in the network alongside LaSalle College Montréal and LaSalle College Vancouver, and will become LCI Education's major European hub. Its privileged location in 22@, Barcelona's innovation district, will expand and strengthen our link with the business community and institutions of the design and visual arts sector.
The new campus will allow us to provide students with the best learning experiences and a greater number of opportunities, always enhancing collaborative work, cross-disciplinary projects and the exploitation of synergies between the different specialties we offer.