From March 15th to 19th, the Saló de l'Ensenyament is back and, one more year, we are at the most important educational fair in Catalonia providing you with information about our programs. You can find us at stand A100 in hall 1 at Fira de Barcelona in an installation created by four students of the Bachelor's Degree in Interior Design: Ot Catalan, Alba López-Cepero, Júlia Arpal and Francesca Bortolan.
The proposal of our students, entitled "We build your future", is inspired by the new LCI Barcelona campus. "We have composed volumetries that remind us of a project assembly, the construction of a better future —the authors explain— and we have done it through reusable wooden slats that symbolize our commitment to sustainability". The stand includes different panels with information about the School, graphic elements of the areas we offer and images of the future campus. The objective of the students, led by the head of area Pedro Coelho and professor Paula González, has been "to represent LCI in a simple, attractive, warm and innovative way". Here you can find out about our Bachelor's Degrees in Design and Visual Arts.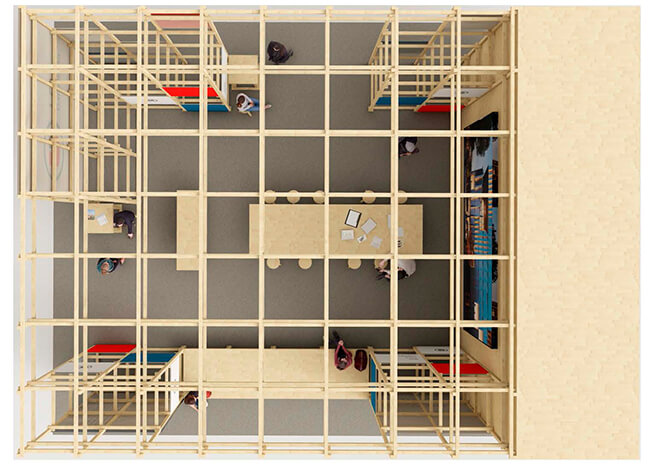 Top view of the installation
We are also at stand A138 in hall 2 to give you all the details of the Higher Technical Education programs we offer. In addition, we are sponsors of Adolescents' Space stage (where there will be concerts, contests, fashion shows and live radio) and we raffle a summer course on initiation to Design valued at 600 euros.
Do you need more reasons to visit us at the Saló de l'Ensenyament? See you from Wednesday to Sunday at Fira de Barcelona!