Last week we "futured" thanks to the 9th edition of our Prospect Design festival. For four days we held different masterclasses and workshops inspired by future, ethics, technology and design and taught by both LCI professors and external professionals who did not want to miss the event.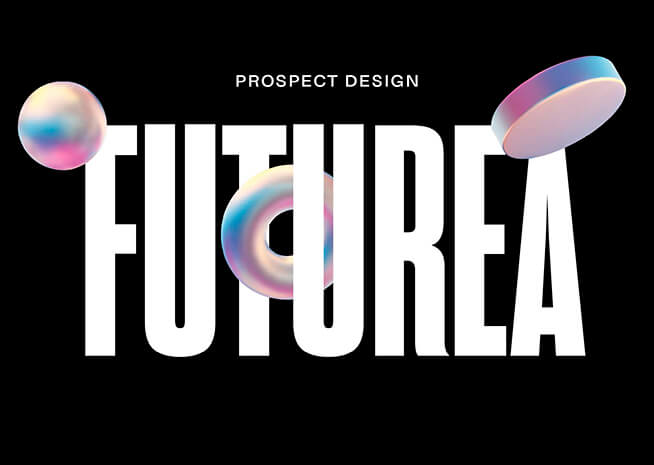 "Futurea", title of the Prospect Design 2023
Our future campus was undoubtedly one of the main protagonists of this Prospect. Circular Studio, the architects in charge of the project, presented the details of the building in the session "The New LCI" and reflected on the ways to sit in the university environment during the workshop "In Praise of the Chair". We were also accompanied by professionals from Soon in Tokyo and Pràctica studios, who focused their workshops "Pictogram Design" and "New LCI Merchan" on the signage of the new building and the merchandising of the School, respectively.
The #ProspectDesign23 left the classrooms for 22@, the district we will move to in 2024. Professor Gema Requena (director of our Postgraduate in Coolhunting) led the trend tour "Urban Trend Impact" through key spaces in Poblenou, while those attending the "Building Sketch" workshop drew the new building with professor Santi Sallés.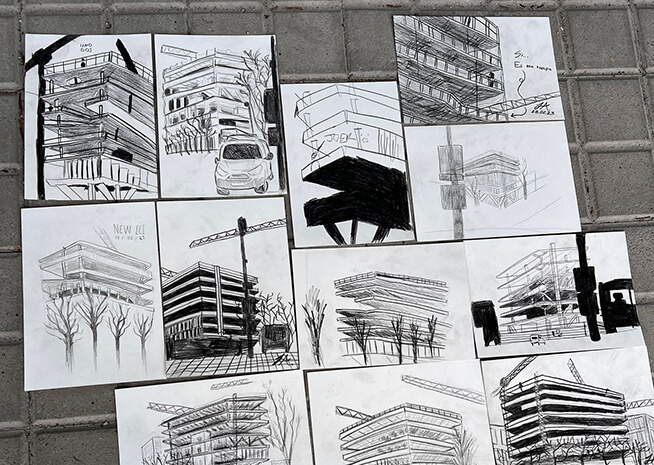 Some of our students' illustrations
The other main protagonist of this year's Prospect was artificial intelligence, the central theme of the sessions "AI Caramba" with Bernat Cuni and "AI & Designing Ethics" by David Casacuberta. Both activities allowed us to experiment with AI tools and reflect on their ethical implications. The animator and storyteller Ezequiel Torres gave "BetaTest Thinking", the last masterclass of the festival.
On Thursday afternoon we close the curtain on Prospect Design 2023 with a party at the Agora sponsored by Moritz. Professor Dani Cantó was in charge of the music in an evening during which we presented different awards such as the award for the best sketch of the new campus, the most participative student or the best look of the party.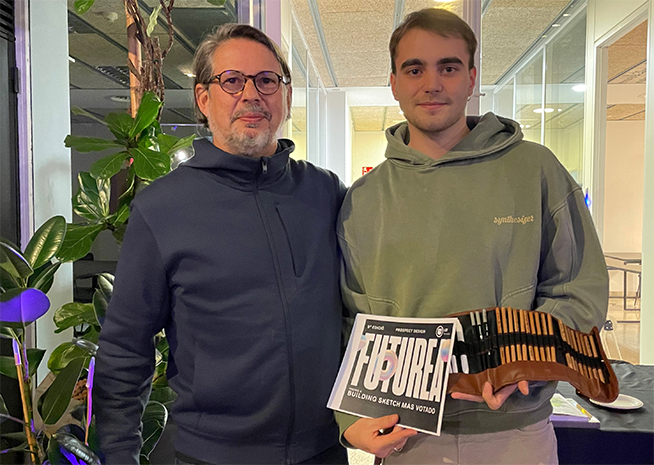 Santi Sallés with one of the winning students
The Prospect will return next year with more activities and more synergies, but with the same objective: to approach design and visual arts from a playful, dynamic and transgressive perspective. The countdown to #ProspectDesign24 begins!