Excitement and nerves came together this Tuesday at Sala Apolo on the occasion of "Escape from reality", the final fashion show of our new graduates in Fashion Design. The 61 designers who presented their projects were surrounded by family and friends, as well as professors, schoolmates, alumni and members of LCI management team and staff. We were also accompanied by personalities and representatives of companies, agencies and media who did not want to miss the great event.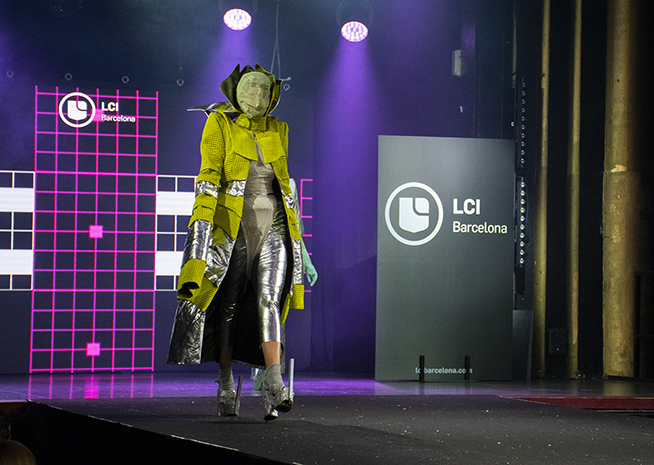 Some proposals challenge the shapes of the human body
"Each collection is unique —told us Estel Vilaseca, head of the Fashion area, from the backstage—, but what connects them all is the fact that the students, who have lived through a pandemic during their studies, have been able to escape from reality by taking refuge in their creativity". Whether by resorting to fantasy or reconnecting with nature, the creations of our designers open the door to their inner universe.
Divided into two large blocks, the second part of "Escape from reality" was broadcast live on LCI Barcelona's YouTube channel. Within 24 hours of the event, the streaming had already accumulated more than 1600 views. And we will soon be launching the full video of the fashion show!
Congratulations to the 61 students who presented their collections and to the professors who have tutored them during all these months of hard work and dedication:
Designers: Laura Adell, Júlia Agut, Miren Aresti, Aaron Astasio, Inés Ayuso, Malak Bakry, María Balibrea, Marta Barrientos, Esther Berenguer, Eulàlia Bonavia, Àlex Cabero, Maria Callizo, Santiago Camiro, Paula Cerdaña, Lluís Colom, Erola Coma, Carlota Cruz, Cristina de Córdova, Alexandra Escobar, Anna Escoda, Natalia Espuelas, Lucía Fernández, Clara Gallardo, Lídia García, Lucía Gómez Bocardo, Lucía Gómez García, Sara Haidar, René Häussler, Norah Led, Alessia Lopedote, María del Mar López, Alba López, Claudia Martorell, Paula Martorell, Marta Miñán, Rocío Moreda, Arooj Hanif, Zoé Noguero, Paloma Nuñez, Paula Olivella, Georgina Otín, Inés Perelló, Adrià Pérez, Amanda Perez, Maria Pons, Judit Ponsa, Anna Puigpinós, Alicia Ramírez, Ariadna Ramos, Maria Robres, Paula Roca, Borja Romea, Clàudia Serra, Irene Torrano, Jennifer Torres, Lola Trillo, Laura Vidal, Mónica Vila, Luxin Wang, Helena Wankana and Alex Zurano.
Project manager: Gabriel Torres.
Tutors: Manuel Bolaño, Sophia Pega, Lucia Alcaina, Evelina Martyrosian, Estefanía Feu, Montse Liarte and Jessica Raya (Design), Maria Costa, Fran Jiménez and Susanna Canalda (Pattern Making) and Daniel Cantó (Communication).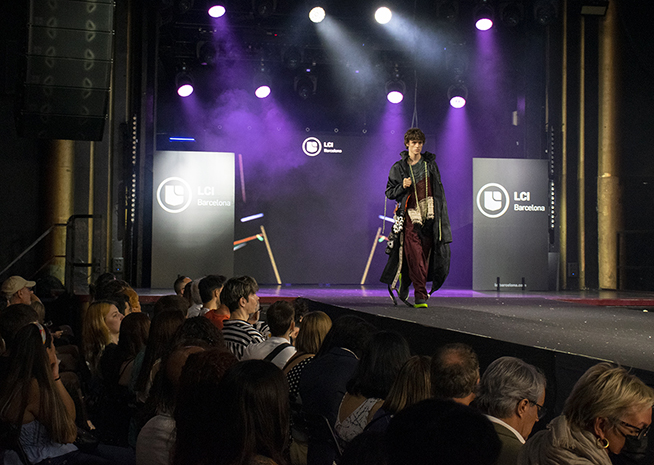 Sala Apolo was filled with #MadeInLCI talent and creativity
Once again, our fashion show has had the collaboration and involvement of the LCI community (faculty, students and staff members), as well as companies and external professionals:
Thanks and congratulations to all of you for the great success of the #LCIFashionShow22!
*Click here to see the photocall images.