The 9th edition of Prospect Design is coming and, this year, our design and visual arts festival focuses on the future. We want you to be part of #ProspectDesign23 too by inviting you to the masterclass "AI & Designing Ethics" with David Casacuberta next Wednesday, March 1st at 19:00h. The event will take place in hybrid face-to-face and online mode (check your schedule here).
Why can't you miss it?
Because we will open reflections, debates and conversations about the future of artificial intelligence and its impact on design. Whether you're for or against, this is the time to expand your knowledge about AI and new technologies.
About the speaker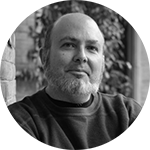 David Casacuberta
Philosophy professor at UAB, David is interested in a multitude of topics, from gastronomic aesthetics to bioethics, but his research focuses on the social, cultural and cognitive implications of digital technologies and how classical Eastern thought can help us better understand what the mind is. In 2003 he won the Eusebi Colomer Award for the best essay on philosophical or ethical aspects related to the new technological society, as well as the Ingenio 400 Award for the best net.art project on the 400th anniversary of Don Quixote.
How can you register?
Just fill in the form above on this page and we will contact you by e-mail. See you on March 1st!
Event in Spanish.