On November 21st we celebrated on our campus the delivery ceremony of the LCI Barcelona Award for Best High School Final Project 2022. The winning project of the contest's 5th edition is "Amnesia", an exploration on the human perception of time by Jordina Cascante, from Daina-Isard School at Olesa de Montserrat.
The jury of the award, led by our academic director Ruben Monmany, highlighted from the project "the complexity of the research, translated into a real experience (an exhibition at Olesa's Casal), and the originality of the concept obtained". In the words of the author herself, "Amnesia" is a journey through the historical conception of time divided into three stages (past, present and future) from the perspective of philosophy, science and art.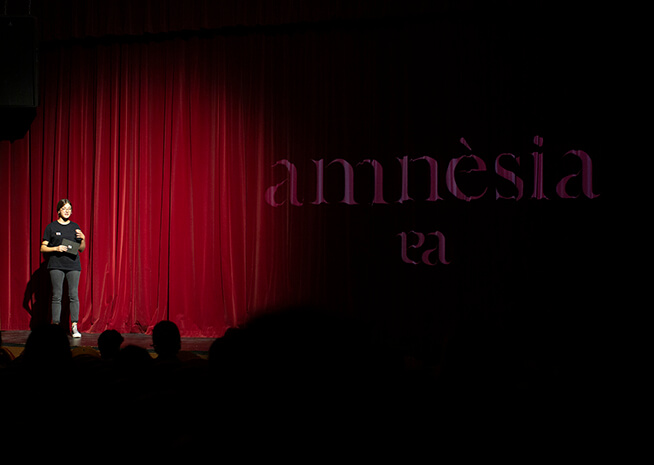 "Amnesia" analyzes the human perception of time
Jordina collected her prize (an Apple pack consisting of an iMac and an iPad) from our general director Sílvia Viudas, who also presented a set of books from Gustavo Gili Publishing House to Joan Riera, professor at Daina-Isard School and tutor of the project.
The finalists of this 5th edition have been Alberto Benito (from Santiago Sobrequés i Vidal Institute at Girona) for the project "An introspective journey. Artistic expression in the self-portrait", and Marta Guerrero, Iris Palacios and Júlia García (from EASD Llotja at Sant Andreu - Barcelona) for "The hidden face of the fashion industry". The prize in both cases is a Polaroid camera.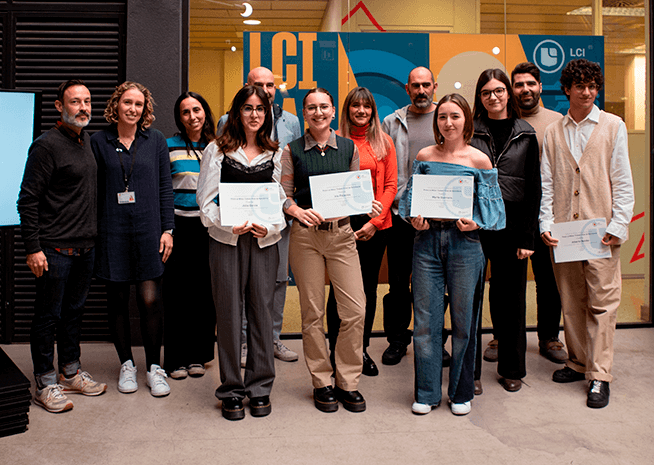 The winner and finalists of this year's edition
After the award ceremony, Jordina made a presentation of "Amnesia" and gave us an interview that we will publish soon. "When I found out that I had won I was very happy, I felt a great sense of reward", confessed the student, who does not rule out recovering the project and make it more professional.
Congratulations to Jordina, Daina-Isard School and the rest of the winners, as well as to all the students and schools that have participated in our Award for Best High School Final Project 2022. The call for the 6th edition is now open, click here for details!